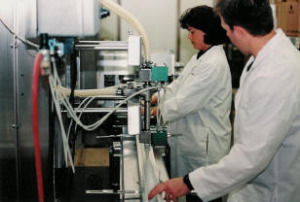 Here at Vellus, we love family. We feel as if you are family too, and we value you as if you were one of us. We believe your dog is part of that family as well, whether strutting it's stuff in the show ring or curled up next to you, your dog deserves our commitment to the finest grooming formulas that are healthy for the hair and skin and provide that extra touch for the Best in Show look. We want to hear from you….hear your stories….see your photos….learn about your wins.
Here is a glimpse of some of the people that work together to bring you The Vellus Philosophy.
Teri
Teri is the President of Vellus Products, Inc. The daughter of the founder, Sharon Kay, Teri worked alongside and was mentored by Sharon from 2001-2015. Chances are good that you have talked to Teri when you called in as she loves discussing how the The Vellus Philosophy can help your dog look and feel like a "Best in Show" winner!  Teri's passion, committment and knowledge work together to continue the dream of providing only the "Best of the Best" grooming formulas, the kind of products Vellus is known for around the world.
David
One of the founders of Vellus.  As a personal care chemist David worked with Sharon to create the original formulations which we still use today. Their collaboration brought the Vellus dream to life.
Sharon Kay
The name behind Vellus, and the face and voice that many of you know. It was her dream to create a line of authentic grooming formulas that are better than anything else on the market . Working with David, using her extensive knowledge of dog hair and skin, her dream was realized and Vellus was born. Her dream and legacy continue to this day.
Bob
The Production Manager. You will find Bob and his team precisely measuring, weighing and checking every batch as they produce Vellus Products. All of our products are manufactured, bottled and labeled right here at our corporate facility in Columbus, Ohio U.S.A. Bob and his team make sure that the handcrafted quality of Vellus Products is never compromised.
Justin
As the Production Assistant, Justin works alongside Bob, overseeing the bottling, labeling and stocking of our finished product.